In a nutshell...

Floyd Murray is a "One Man Band" solo performer who has been entertaining and delighting audiences for over twenty years. He is an accomplished multi-instrumental musician, a passionate and powerful vocalist, an impressively creative and proficient technician, and he is on
top of his game. For just one guy, Floyd sure puts out a lot of music, a lot of energy, and a lot of FUN!
---
Beyond the nutshell...

For two decades or so, Floyd Murray has been performing professionally at Clubs, Night Spots and Private Events throughout the state of New Jersey, parts of New York and Pennsylvania, Key West, West Virginia, and Internationally. (Most currently, a two- week feature at a boutique hotel in Costa Rica.) Floyd uses the latest digital technology to enhance his electric and acoustic guitar/vocal renditions of classic, contemporary, and original music, giving him a "huge" yet pristine sound at any volume.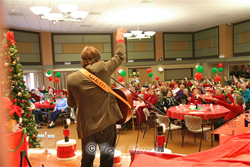 The diversity of his repertoire enables him to cover any musical situation, from the easy listening background music during dinner, happy hour, or a cocktail party, to the high energy of a dance floor full of partying people and everything in between. (including some comedy and the occasional "special guest" singer from the audience) Floyd's experience and love for his art has emerged into a diverse musical act that is entertainingly fresh, energetic, and quite obviously from the heart.
Besides his musical talent, Floyd's interaction with audiences... something he calls "audience participation", ads an element of fun and excitement that brings people back to see him time and time again.
Floyd is continually expanding the venues in which he performs. This seasoned performer offers the opportunity to bring in a high quality, highly entertaining, and extremely diverse musical act. You get the intimacy of a solo acoustic performer along with the added sound and excitement of a big band, without having to budget for one.
Floyd's work ethic is that of a true professional, and he takes his profession seriously from the standpoint of the people that hire him. He will work with you before your event to accommodate your requirements and ensure that you are comfortable and confident that all the details are covered. He shows up early and starts on time. He knows how to read and work an audience, setting the proper pace for the event. He promotes and advertises for public events, and promises confidentiality for private events if so required. He is acutely aware that his success is directly dependent upon your success, and he takes pride in delivering satisfaction to each and every one of his clients. That is why he has been able to successfully do what he does for over twenty years.
If you are interested in hiring Floyd or inquiring about his services, please fill out this secure CONTACT FORM with your contact preferences and the nature of your inquiry. You will receive a prompt reply. Electronic Press Kit and References furnished upon request
Thank you kindly, for your time and interest!
Additional Services
In addition to being an accomplished musician and entertainer, Floyd has command of an impressive technical skill set that he has acquired from numerous sources including; Six years military service in the U.S. Navy as a Sonar Technician, various Technical Schools and Certifications, On-Line Technical Courses, previous employment training and hands-on experience, and continuing education through personal study and research.
Through his many years of work experience, Floyd has established a reliable network of competent talent through trusted Partners and Affiliates. By providing specialized service either directly himself or by referral through his pipeline, Floyd is able to offer requirement solutions in the following disciplines:
Website Design and Development
Mobile Web Design and Development
Web Hosting
Graphics and Artwork Design
Computer Consulting Services
Apple Computer Specialist (Training and Configuration)
Application Software Training
Network Administration (Windows and Mac)
Photography (Event - Product - Time Lapse - Wildlife - Nature - Ecology - Forensic - General)
Videography (Production - Editing - Time Lapse - Wildlife - Nature - Ecology - General)
Staffing Services (Technical Personnel, Professional Staffing and Trainers)
Technical Recruiting (Telecom - Programmers - Technicians - Engineering - Management)
Corporate Audio/Visual Services (Audio/Visual Setups for large events)
Audio/Video Recording and Production (Studio or Remote)
Crime Scene Investigation and Forensics (Consulting - Instruction - Photography)
If you have a requirement for any of these services, please fill out this secure CONTACT FORM with your contact preferences and the nature of your requirements. You will receive a prompt reply. Free estimate and proposal to qualified inquiries.
Thank you again, for your time and interest!